LEADERSHIP SUPERVISOR TRAINING
Are you a supervisor? Do you aspire to be a manager maybe even a department head? Are you currently a supervisor, manager, department head? Being an effective leader and supervisor takes skills and knowledge, tools that very few of us are born with. Yet we often get promoted without those tools.
The Trindel Insurance Fund Leadership Supervision Training Program (L.S.T.P.) is designed to help you get those tools. L.S.T.P. courses are available to every supervisor, first line to department head throughout the year in each of the ten member counties of Trindel Insurance Fund. The topics for these courses are organized into four phases, basic to advanced, covering the knowledge and skills needed to be an effective leader and supervisor.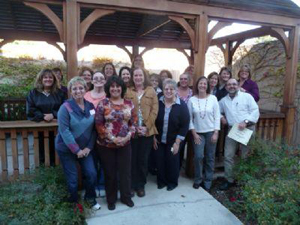 LSTP Login
Phase I - Fundamentals of Leadership and Supervision
Roles and Responsibilities of Supervisors
Introduction to California Labor Code
Introduction to California State and County Government
Interpersonal Communication for supervisors
Written Communication and Documentation
Leadership styles and application
Ethics in Local Government
Phase II - Employee Development
Performance Expectations
Assessing workplace training needs
Coaching and Feedback
Motivation, Reinforcement, Recognition and Accountability
Performance Evaluations
Managing Change
Employee Rights and Responsibilities
Phase III - Process Management
Time management
Defining goals and objectives
Developing and delivering presentations
Conducting productive meetings
Local government budgeting
Fundamentals of worker's compensation
Phase IV - Advanced Leadership & Supervisor
Evaluating performance
Progressive Discipline
Grievances process and mediation
Employee rights and responsibilities
Conflict resolution and Problem solving
Developing Written Policies and Procedures
Advanced Ethical Issues
The Brown Act
Want to know more?
Contact your Loss Prevention Specialist and ask about the LSTP in your county. (Trindel Insurance Fund members only) The lumber is there to build the house but you still need a hammer and saw. Here is a chance to get the tools you need.
Forms:
Calendar
Leadership Supervision Training (Trindel Staff Provided):
Sexual Harassment Prevention
Independent Employee Action Defense
Loss Prevention and the Supervisor
Leading To An Efficient Workplace
Instructional Techniques for Supervisors
Communication with Disabled Persons
The Coaching Supervisor
Leadership Supervision Training (Contract Trainer Provided):
AB 1825 - EEO/Sexual Harassment Prevention
Performance Evaluations
Progressive Discipline
Internal Investigations
AB 1234 – Understand Your Ethical Responsibilities
Managing Leave of Absence
Reasonable Accommodation
Family Medical Leave Act